Instagram is constantly shifting and evolving. As a marketer, it's critical to stay on top of the changes and trends to ensure your social media strategy is effective. So to make this easy, we have compiled the 5 Instagram trends marketers should watch in 2020.
The reality is, with 85% of the top brands using Instagram to reach their audiences, there's no question that the social platform is the place to be.
Stay ahead of the curve with these top Instagram marketing trends in 2020:
Users crave authentic and honest content
When it comes to engagement, it's authentic and unfiltered content that works on Instagram.
That's not to say that high quality photography and content should be discarded.  Rather, you need to find the right balance between professionalism and authenticity.
Focus on making your content honest, relatable and believable so that Instagram users feel a connection to your brand.
For example, Australian activewear brand Lorna Jane posts content that's colourful, playful, and inspirational – the perfect representation of the brand.
Another great example is yoghurt brand Chobani Australia:
Instagram Shopping is on the rise
Instagram Trends #2 – Instagram Shopping is definitely a strategy you want to tap into – over 130 million users click to view Instagram shopping tags on photos each month.
Brands are adding direct buy links to their product posts, and there's even a community of online businesses that sell exclusively through Instagram.
What makes Instagram such a powerful platform for selling? It is highly visual.
What's more, Instagram has added lots of features to improve shopping on their platform. For example, brands can tag products in posts and Stories, and users can complete entire purchases on the platform.
In the example below, Lorna Jane uses Stories to provide a direct offer for a free tank top.  Interested users simply need to "Swipe up".
Global clothing brand H&M does this same. After taking the user through inspirational images and videos in Stories, the last image invites you to "Swipe up to shop":
Brands can also save Stories as highlights to showcase their latest collections.
Another trend in Instagram Shopping is the rise of boutiques that use the platform as a virtual shop to display and sell products, like Peppermayo: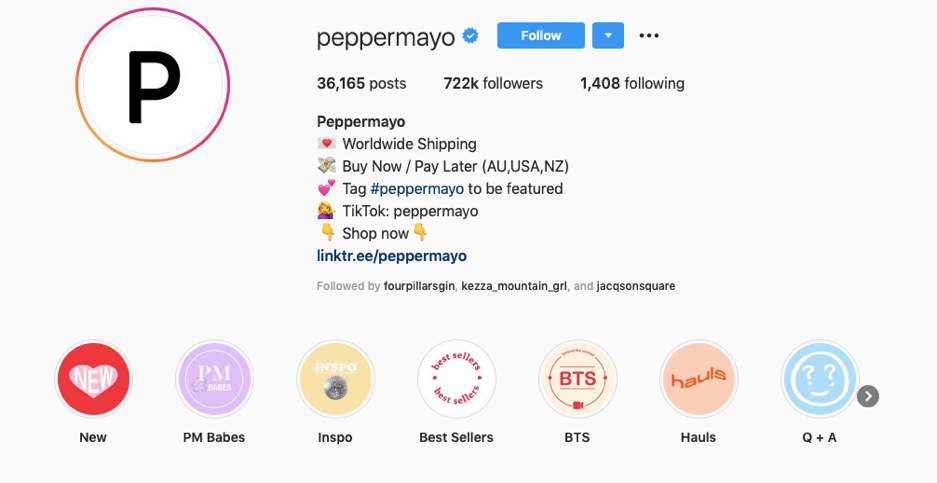 When users click on a post, they can "tap to shop" on individual items:
IGTV makes a splash
IGTV is Instagram's place for long form videos, and is available in the native Instagram app and a new standalone IGTV app.
When it first launched, it wasn't clear how it would impact Instagram strategies. But a few tweaks and updates mean it offers more to marketers than they might realise – especially because by 2021, mobile video will account for 78% of total mobile data traffic.
First, Instagram has added an IGTV tab to the Explore page navigation, so users have more opportunities to find interesting videos and content creators.
Next, Instagram added the option to include previews of IGTV videos within a user's regular feed, so people can find the accounts they already follow that are creating long-form video content.
You can see the IGTV tab on the Adidas Australia profile:
When you click on the tab, you can view the series of vertical videos:
Then click on a video to view:
Instagram Stories are more powerful than ever
Instagram Stories have come a long way since their launch in 2016. They now reach 500 million daily active users, and they're not slowing down.
Now, you can automatically share your Instagram Stories to Facebook, so that you can reach an even greater audience.
You can also add music and make them more interactive for better engagement.
Check out how Uber uses an interactive quiz on Instagram Stories:
It's easier for users to find your business in Explore
More than 200 million users visit the Explore tab each day, meaning your brand has even more opportunities to be found by more people.
The content on each user's Explore page is tailored to their activity on Instagram, so it's important to target your audience if you want to earn a spot in their Explore area.
As Instagram explains, the Explore tab is where "you can find photos and videos that you might like from accounts you don't yet follow. You may also see curated topics we think the Instagram community will enjoy."
How do you get featured?
Here are a few tips:
Post your content at the right times for your audience.
Create engaging videos, posts and stories without too much text.
Make sure you are interacting with users who are relevant to your business and industry.
Always use compelling calls to action.
Over to You
There are always new and updated Instagram features, so if you want to get the best business results from the platform, you need to keep on top of the latest Instagram trends for 2020 and incorporate them into your social media strategy.
Need help with your Instagram strategy? Sign up for our online short course.